Savuti-XL offroad
Savuti-XL offroad
Savuti-XL
The new Savuti-XL, is a quality eye-catching offroad trailer that is well designed to provide a more compact, yet spacious outdoor experience. A key feature is the new heavy-duty articulating coupler, essential for rough terrain, plus the 14 inch tyres that provide a true offroad capability.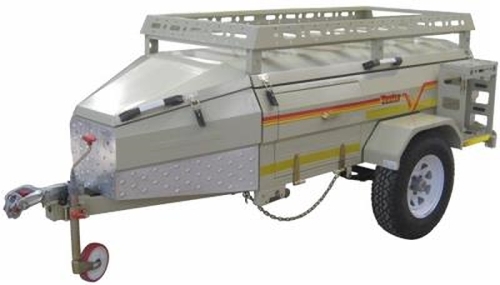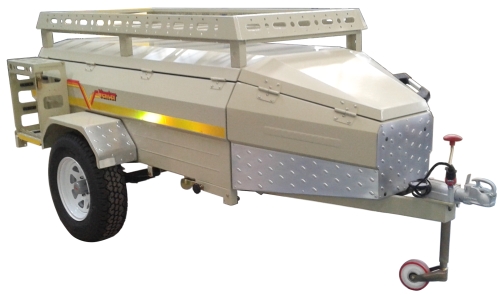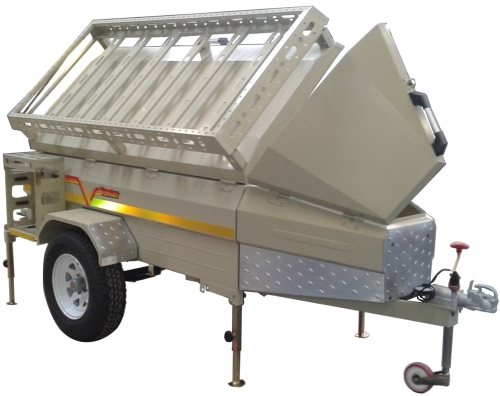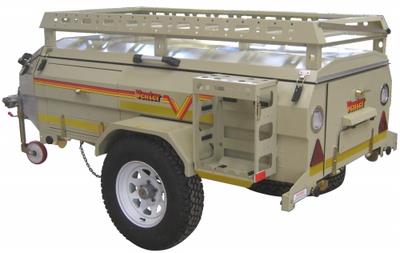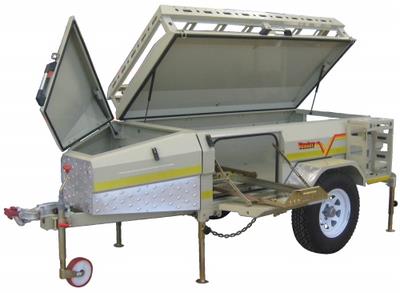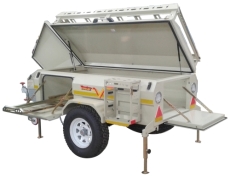 Features
Zinc-galvanised steel body, epoxy powder coated, colour beige
A deep body of 590 mm for those larger items.
Four extension legs providing stability on uneven ground
A robust roof rack provides for carrying large items externally, such as tent, includes a table compartment
The trailer is fitted with a large nosecone, with gas lift assisted lid, mounted on the front A-Frame
Aluminium handle on trailer lid and nosecone lid
Plastic handle toggle catch on trailer lid and nosecone lid
Provision to attach a tent onto the roof rack
One jerry-can holder and one gas bottle holder mounted on each side of the trailer
A wide rear tailgate for access to the trailer interior, without lifting trailer lid
A side door for access to drawout rack
Side-drawout rack for housing an Engel 15 litre fridge/freezer (Model No: MT17F), or optional storage containers
A gas lift assisted trailer lid allowing for access to the trailer interior, even with the tent attached
8 inch adjustable jockey wheel
36 inch 8 blade leaf springs
8 ring holders for securing luggage inside
Forged Alko pivoting coupler, allowing full lateral and vertical articulation between towing vehicle and trailer
Strong construction using 30% more steel than standard trailers allowing for 4x4 conditions
Long-life 1250kg axle, numberplate twin light, multi-function LED lights
Steel-belt light truck/recreational radial-ply tyres with a multipurpose pattern for on-and off-road use. The tyres offers excellent off-road traction, braking and manoeuvrability in wet or dry conditions. These tyres have excellent high-speed steering ability plus high levels of comfort, ride refinement, low noise characteristics and improved straight-line performance in highway applications.
Spare wheel.
Side door draw out rack

Optional Equipment

Tailgate and side draw-out racks (standard types)
Tent with ladder for two adults (tent factory fitted with order)
Stainless steel water tank, and gas bottle holder

Additional Optional Equipment
Side draw-out rack (wider type for ammo boxes)
Side door closed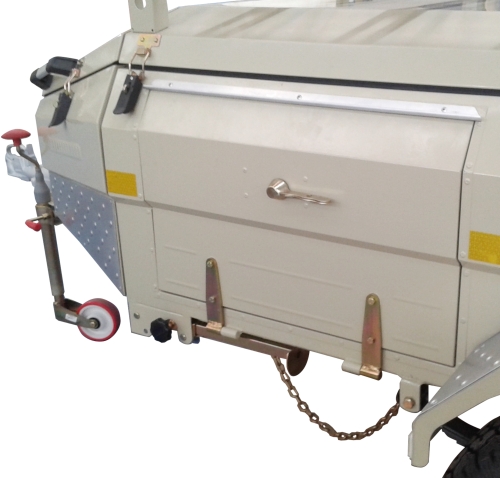 Wider side drawout rack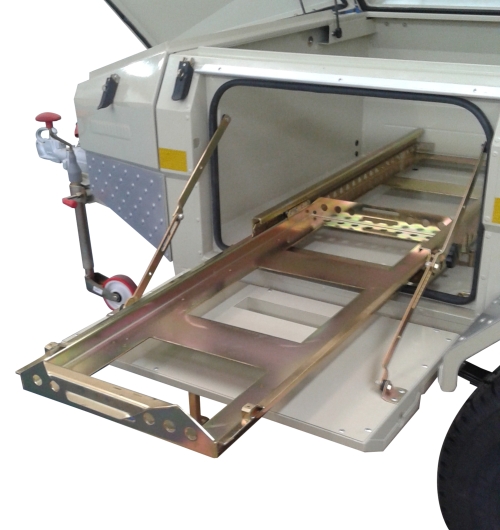 Ammo boxes on drawout rack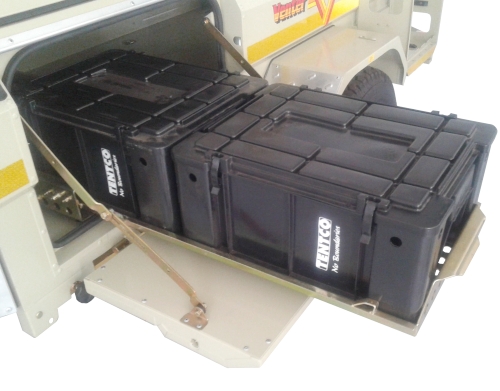 Adjustable rear support legs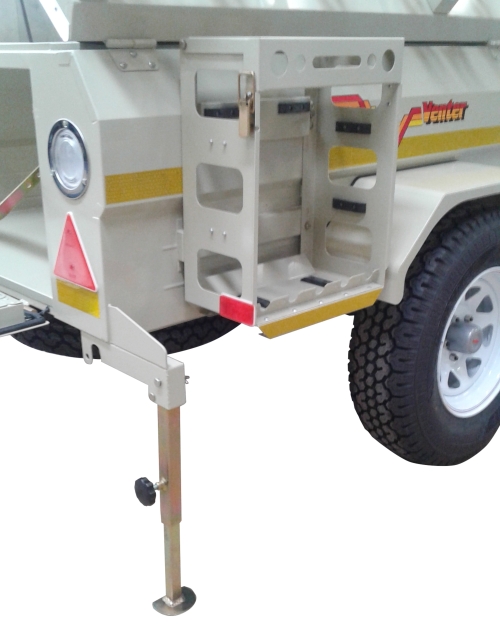 Adjustable front support legs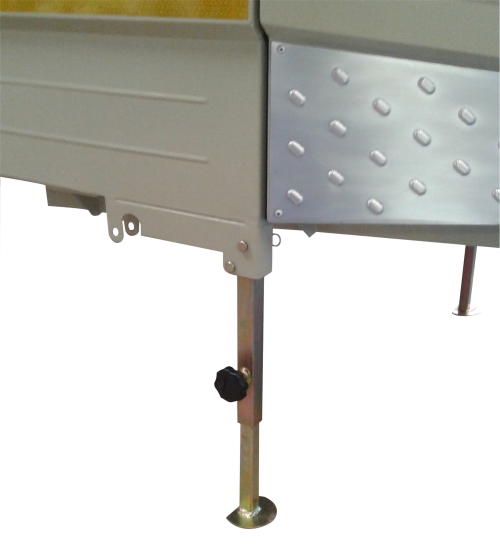 Jerrycan Holder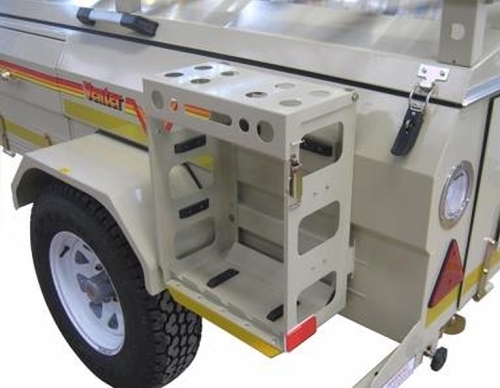 Jockey wheel and coupler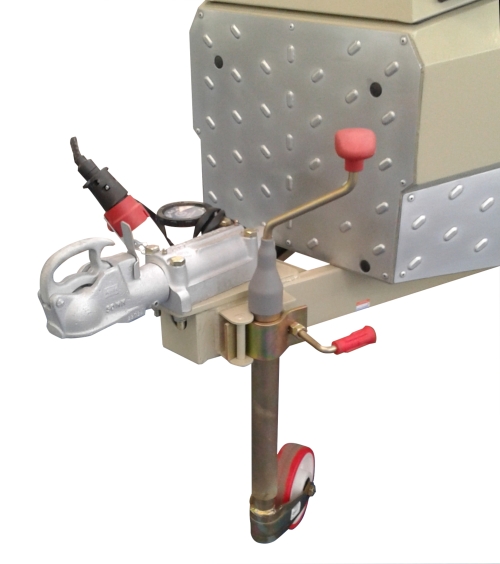 Roofrack table compartment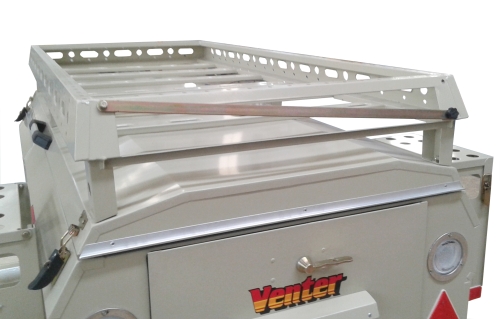 Engel 15 l Fridge/Freezer (fits into side drawout rack)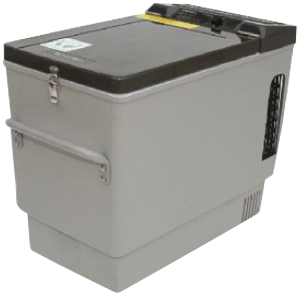 This fridge/freezer fits the side draw-out rack. Compact and lightweight with a tough plastic casing, this model is perfect for one or two people on weekends away. Auto switching between AC and DC is standard and saves the user needing to remember to switch. Now comes complete with carry Handles.
Product Description
Please note that the external dimensions do not include the Carry Handles if fitted they increase the width by 50 mm each end. (Overall Width 648 mm)
SPECIFICATIONS:
Capacity: 15 Litre (21 X 375ml Cans)
External dimensions:: H 360 W 548 D 306 mm (note width measurement without handles)
Internal dimensions:: H 230 W 290 D 200 mm
Net Weight: 17 Kg
DC Power Consumption: Variable from 0.5 to 2.5 AMPS Maximum
Power: Built In 240Volt AC / 12Volt DC / 24Volt DC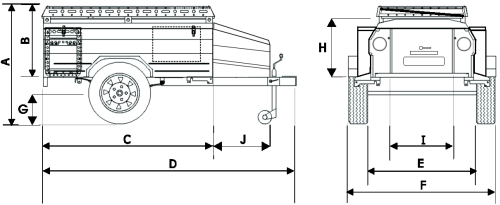 Dimensions
A
Height (over all)
1330 mm
B
Height (side)
825 mm
C
Length (body)
2110 mm
D
Length (over all)
3225 mm
E
Width (inside)
1135 mm
F
Width (over all)
1585 mm
G
Ground Clearance
270 mm
J
Length (nose-cone)
650 mm
H
Height (body)
625 mm
Technical Info
Tare Mass
380 kg
GVM
750 kg
Pay Load
370 kg
Brakes
None
Axle Length
1400 mm
Axle Capacity
1250 kg
Leaf Springs
8 blade 36 inch
Wheels
205x14"
Doors
Door (rear - width)
I - Tailgate 640 mm