New Jockey Wheel
New Jockey Wheel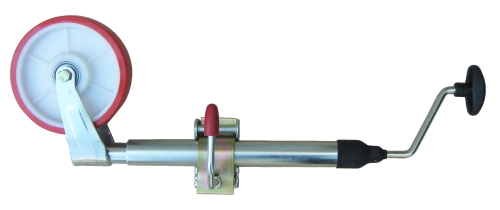 The new jockey wheel has been completely re-designed, and has many new features
Features
1. A more robust height adjusting mechanism
2. A more ergonomic and robust crank knob
3. A strong clamp providing height adjustment and retraction
4. A stronger wheel-yoke and axle
5. A new durable wheel with a polyurethane outer and a polypropylene inner
6. Two bearings per wheel for longevity and better rolling
New Wheel
These attractive and durable wheels feature a resilient tread of red polyurethane (90-95 Durometer Shore A), mechanically bonded to a specially designed white center of impact resistant polypropylene. These two materials in combination, provide for a superior wheel that has a very long lifespan. The result is a contemporary looking wheel ideally suited to outdoor applications.
High Quality Double Bodied Wheel.
Mechanical bond between polyurethane tire and polypropylene wheel center.
Durable two-component wheel
Impact Resistant.
Resistant to most liquids
Acid and Alkali resistant
Ideal Temperature Zone (-20°C to 50°C).
Utilising the best properties of both polypropylene and polyurethane
Wheel Materials
Polyurethane
Physical Properties
Polyurethane bridges the gap between rubber and plastic on the hardness scale. It can be produced in hardness ranging from 20 Shore A to 85 Shore D allowing it to be utilized for many different applications.

Polyurethane has excellent abrasion resistance and has out performed ordinary rubber and plastic sometimes by a factor of as much as 8 to 1. For applications in which wear is a problem, substituting existing parts with one made out of polyurethane can reduce the frequency of replacement. This in turn means less down time and greater productivity.

Polyurethane has significantly better impact resistance than structural plastics. It has load-bearing capacity for compression comparable to cast steel which is greater than natural rubber. Polyurethane also has high tensile strength.

Environmental Properties
The physical properties of polyurethane are very resistant to environmental conditions such as heat, cold, and aging. Studies have shown that, upon weathering at ambient conditions for 12-15 years, the tensile strength, elongation and hardness of polyurethane changed less than 10%.

Polyurethane has excellent long term stability in water and is resistant to swelling and deterioration in temperatures as high as 80ºC. It is also very resistant to mold, mildew and fungus growth, which make is it an excellent choice for applications in which there is exposure to a moist environment.

Polyurethane is resistant to oil and solvents and outperforms metal in chemical resistance. It is also resistant to radiation and is stable under high vacuum conditions.

These properties allow polyurethane to be used in some of the harshest of environments with minimal deterioration.
Information provided by courtesy of Elastochem Specialty Chemicals Inc
Polypropylene
The wide range of polypropylene uses in several industries is owing to its unique properties. It does not promote growth of bacteria on its surface and hence, it is used in various types of medical equipment. Due to the high impact property, it can withstand strong force. For this reason, ropes made of polypropylene is often used for fishing and agriculture purposes. In the construction sector, the uses of polypropylene are in manufacturing of pumps and different types of pipes. In automotive sector, several auto parts like bumpers, battery cases, etc. are made up of polypropylene.
Physical Properties
Weight: Polypropylene is a lightweight material.
Tensile strength: Its tensile strength is quite high. It shows strong resistance towards stress and cracking.
Shape: Polypropylene is crystalline in nature and possesses a regular geometrical shape.
Insulation: It acts as an excellent insulator. That means, polypropylene prevents flow of electricity through it.
Moisture Absorption: Polypropylene does not get damaged by water exposure because its moisture absorption is very low.
Melting Point: Melting point of polypropylene is 160°C. Therefore, unlike other polymers like polyethylene, it is capable of being operational at a very high temperature

Other Useful Properties: Basically, it is a non-toxic substance. It does not get stained very easily. It can be easily fabricated. It can retain its stiffness and flexibility intact even at very high temperatures.
Information by courtesy of Buzzle.com